Exterior Doors

Make Your Home Stand Out with Our Exterior Doors
Dallas Door Designs offers a wide spectrum of exterior doors to suit your style
Exterior doors can make or break the look of your whole property. The right material, texture, color and styles all contribute to the curb appeal of your home. Your home's front entry is the focal point of your property; by making a statement with a pop of color or an elegant custom door design, the beauty of your home's interior can radiate outward to show off your personal style, says Better Homes and Gardens. Exterior doors — particularly the front entry — take on the task of welcoming the world to your home, setting the tone for your entire house. Is your current door up for the task? Do you need to upgrade the impression you're giving off to the neighborhood?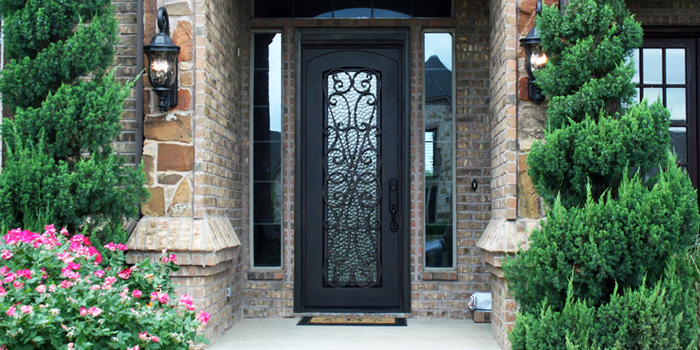 Our Services: Exterior Doors Dallas, TX
We can help here at Dallas Door Design, your premier exterior and interior door installation and design company based in Dallas, TX and serving the entire DFW Metroplex. We craft, sell and install a variety of exterior doors in Dallas TX, including:
A new door isn't as costly or invasive to construct as you may think. Give us a call now for a free estimate to see just how affordable this project can be, and how quickly it can all happen for you. In fact, we always run money-saving deals for you, so check out our Specials page. When our team visits your homes, we will take measurements and go over your options. Each type of exterior door we install comes with its own unique benefits.
Custom wood doors in Dallas are not only beautiful, they're also durable, versatile, and easy to paint or stain. They can easily be matched with your home's exterior, they're energy efficient and strong, with a natural, rustic look that complements many home styles.
Offering a strong architectural statement, custom wrought iron doors send a message of security and durability. They are aesthetically pleasing, functional, and ornate, yet with an ease of maintenance that gives many homeowners peace of mind.
Highlighted by sturdy and safe glass, our sliding glass doors are beautiful and energy efficient. Increase the natural light in your home with our sliding glass doors that open and close seamlessly every time. Because sliding doors do not require swing room, they are ideal for rooms where space is at a premium. Our doors are crafted for smooth operation and beautiful design, and draw the eye outdoors to your yard, patio, or deck. Standard sliding doors open by sliding along horizontal tracks at the head and sill, designed for either a right-hand or left-hand operation.
Opening out onto your backyard landscape, patio doors can open wide to let the breeze and sunlight in, while affording you a grand way to mark entry and exit. Crafted with quality materials and energy efficient glass, our patio doors stand the test of time.
Featuring a distinctive, innovative design, pivot doors provide a unique architectural statement perfect for modern homes. Our experts can design and install your custom wood and glass pivot doors in Dallas, TX.
Contact Dallas Door Designs in Dallas, TX
For more information on the custom exterior doors we offer in Dallas TX, contact us at 214-973-0373 to schedule a free estimate. We are conveniently open Monday through Friday from 8 a.m. to 4 p.m. Come see us today!