Iron Doors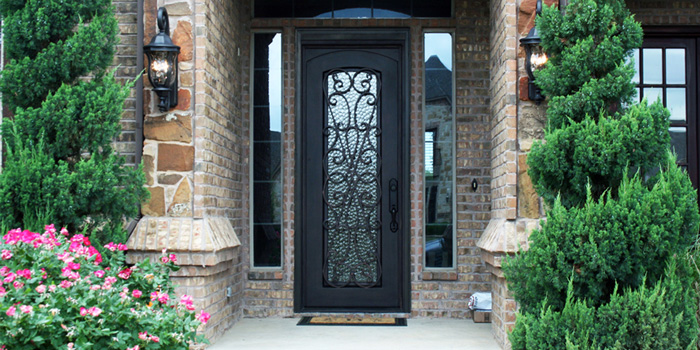 Protect and Beautify Your Home with Custom Wrought Iron Doors in Dallas
Wrought iron doors provide the perfect compliment to any number of architectural styles, adding curb appeal as well as value to your property. Choosing new doors for your home can be an exciting yet daunting time. After all, your front door serves as the centerpiece for your home, and it can make or break the entire look. Here at Dallas Door Designs, we can help you make the right choice with the best selection of exterior iron doors Dallas has to offer,  including doors that are solid wrought iron as well as doors that mix the classic beauty and durability of mahogany with iron.
Our iron exterior doors give you peace of mind when you close them at night, knowing they will protect your family over a flimsy, wooden door. In addition, our custom doors provide an ornate beauty you can't find in any store. We have everything from the most progressive solid iron looks to quintessential, classic looks inspired by homes you'll see in places such as the Mediterranean, where timeless elegance in home design is celebrated. Regardless of your choice, each of these iron door models brings with it a unique style you will love having for the entryway of your home. For exterior iron doors in Dallas that reflect your personality and style, come to Dallas Door Designs.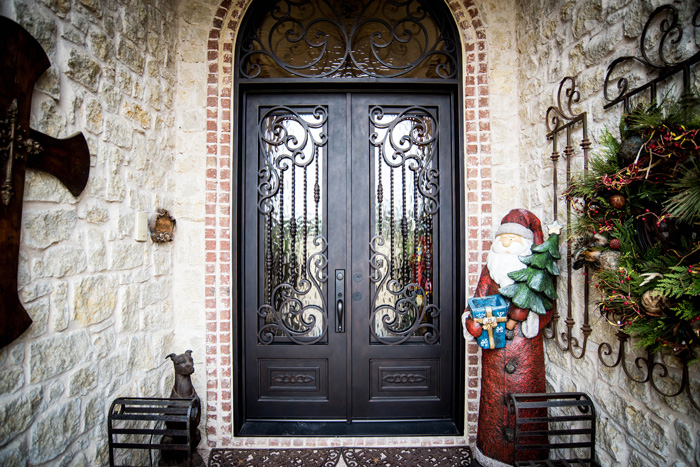 Benefits of Wrought Iron Doors Dallas, TX
Sure, you could go with traditional wooden doors for your home's entry way. But you want something different, something that will stand out from the rest and last the test of time. You want custom wrought iron doors in Dallas, TX! It's a good choice, too, because they come with many benefits for the average homeowner. Here are some reasons to choose wrought iron front doors:
Increased security: Iron front entry doors are more difficult to enter and can provide a deterrent to would-be burglars. Iron doors in conjunction with an alarm system will help you sleep better at night.
Durability: Wrought iron is solid and strong by design, giving you many years of use.
Aesthetics: Wrought iron doors make a strong statement about the elegance and class of your home.
Functional: Not only are wrought iron doors stately and attractive, they are functional and easy to operate.
Ease of maintenance: Wrought iron doors will never rot, warp, fade or need a lot of upkeep like wood will.
Here at Dallas Door Designs, we take great pride in our custom work, with an emphasis on quality and craftsmanship thanks to dedication and training in our hand crafted, original designs. Did you know that iron is the most abundant of all metals and is the fourth most common element in Earth's crust by weight? Much of the core of the Earth is comprised of iron, and it plays a crucial role in the survival of living organisms, says Live Science.
Contact Dallas Door Designs in Dallas, TX
To schedule a free estimate for custom wrought iron doors Dallas TX, contact us at 214-973-0373. We are proud to be a family owned and operated company — your number one source to rejuvenate and enhance the look of your home. We only use the best products by the best manufacturers to ensure a successful project, backed by outstanding service, dependability, and a positive customer experience every time.
Dallas Door Designs Catalog
Wrought Iron Double Doors
Wrought Iron Single Doors
Wrought Iron Wine Cellar Doors