Wood Doors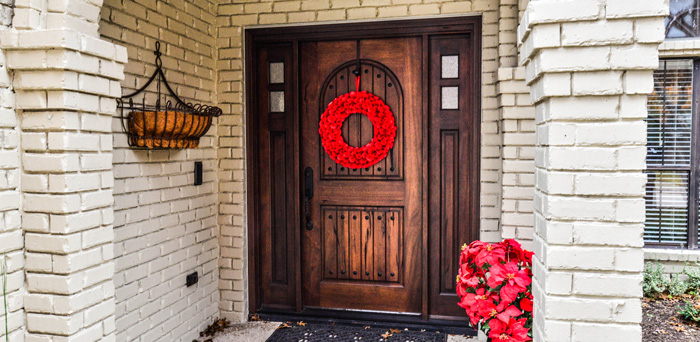 Bring Beauty and Durability to Your Home with Custom Wood Doors
First impressions are everything. That's why you can't go wrong with wood entry doors by Dallas Door Designs. A classic look that fits any style home, our wood doors feature incomparable craftsmanship and extensive design options that add natural warmth and beauty. If it's time you enhanced the look and feel of your home, come to us for solid wood doors that are customized, assembled, and hand stained to meet the highest of quality standards.

Our Specialties – Wood Doors Dallas, TX
Our technicians all have the necessary training and experience to install any type of wood door for your home, with minimal noise, mess and disruption during construction. Our meticulous work ethic shines through every project from start to finish. We specialize in all aspects of pre-finishing for both interior and exterior doors to ensure the end result is a reflection of your dreams, your home and your style. Our services include:
The above services help your wood door last through the years, from constant use to the elements to age. Staining your exterior doors is important because it protects them from the damage weather can cause, plus it helps to bring out the dark, rich, natural tones of the wood, says Do it Yourself. Looking to augment the beauty of your home with wood doors in Dallas? Look no further than the expertise of your local leading installer and supplier: Dallas Door Designs. If you're unsure of the process, the price or what to expect, give us a call today for a free, no obligation consultation. Our designers and installers would be happy to come out to your home to take measurements, show examples, discuss options, and choose the best door for your budget.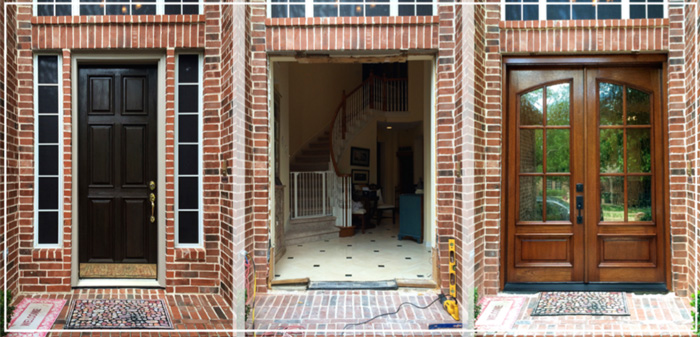 Wood Doors: Advantages
There are several reasons homeowners might choose wooden doors as the centerpiece to their properties. Here are a few benefits to this type of material:
Environmentally friendly
Aesthetically pleasing
Natural, rustic look
Matches with all decors
Provides noise reduction
Energy efficient
Easily fabricated
Durable
Strong in proportion to its weight
Can be stained or painted any color
A Name You Can Trust
Dallas Door Designs offers an exceptional durability in our wood door selection, giving you a wide range of styles and designs to choose from, all backed by dependable customer service and professional workmanship. What sets us apart from all the other door companies in the area? We truly understand the needs and concerns of every customer we work with. Our team is well aware that your home is an investment — one that should be enhanced, nurtured, highlighted and cared for. Our doors not only provide security and an unmatched aesthetic value, but an unparalleled durability for years to come as well. Boosting your property value starts with beautiful front doors.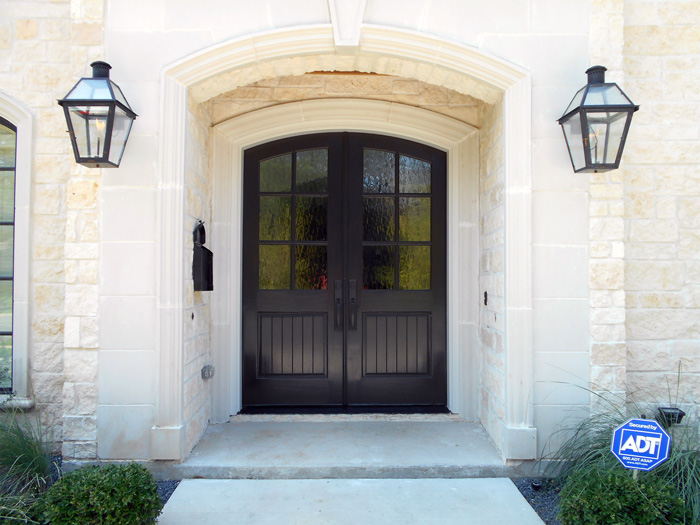 Contact Dallas Door Designs in Dallas, TX
For information on custom wood doors in Dallas TX, give us a call to schedule a free estimate. As a family owned and operated company, our experts can boost the beauty, elegance and value of your home with wood entry doors that last the test of time. Contact us at 214-973-0373 to learn more about our products and installation practices. For your convenience, our hours are Monday through Friday from 8 a.m. to 4 p.m.
See Stained Wooden Front Door Inspirations